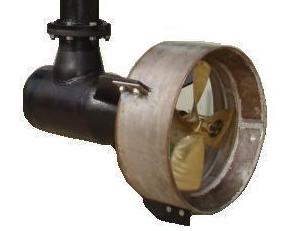 Hydraulic Marine Systems' Lower Drives are an Azimuth Style Hydraulic Thruster Designed to produce a tremendous amount of Thrust in a compact housing, at a Cost Effective Price. The key to their ability is speed. Contrary to a slow turning rudder propeller style propulsion system, HMS' Thrusters produce 1,000 to 1,325 rpm's under load at the propeller!
When combined with the optional Kaplan 4-blade propeller and Matched, tight fitting Stainless Steel Nozzle (shown), these drives will give you the power you need when you need it most! Click the link below to view video of our single engine 275hp twin drive thruster (with 24" propellers) in a push off against a twin engine 430hp pushboat with 30" propellers:
http://www.youtube.com/v/dAhM-D-e7T0
Click below to view video of a Thru-hull mounted Azimuth Thruster in action!
https://www.youtube.com/watch?v=Q4oneCHI3i0
Click the links below for Specifications and pricing:
Contact the Regional Representative nearest you for current pricing information.
U.S. Patent Nos. 7,654,875 B1, 7,883,384 B1, 8,007,328 B2, 8,317,554 B1 8,353,734 B1 8,382,538 B1
© H.M.S. Inc. 2007-2017. All rights reserved.